The Luxury sloop Corsiva 475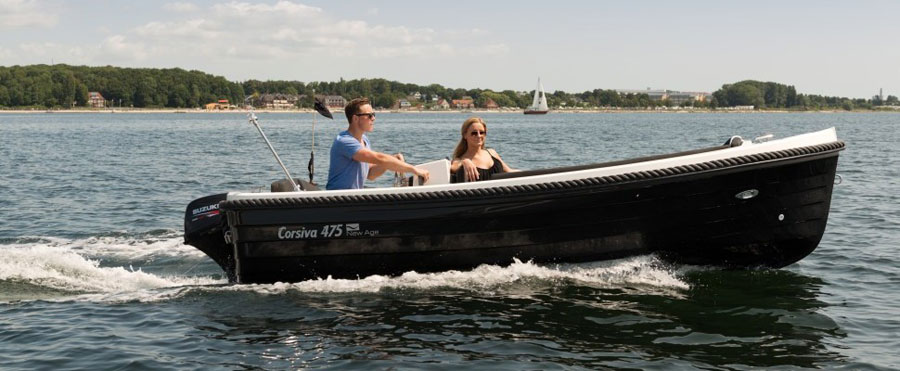 Sailing in a sloop is effortless fun. Rent a sloop with family, friends or colleagues and spend a lovely day out on the water! The Corsiva 475 open-deck sloop is the perfect boat for a day out. Its sturdy design, spacious, comfortable seats, sensible layout and perfect performance make this model the showpiece of Happy Boats and Resort De Biesbosch.
Sail the boat without the need of a license!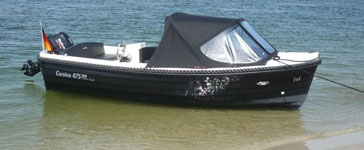 A major advantage of the Corsiva 475 is its low clearance height and low draught, which means you can clear the lowest bridges and sail right through the shallowest waters. In the back of the sloop the seat is deep and comfortable with good backrest. In the front of the boat there is room for three to four people and in the back for two people including the captain. The sloop is fully equipped with a cable ring, seat cushions, steering console, steering wheel, and tarpaulin. In the middle of the boat a table can be installed to enjoy your luxurious (picnic) Lunch on board even more. Are you inspired to go sailing?
Specs:
| | |
| --- | --- |
| Length: | 475 cm |
| Width: | 190 cm |
| Weight: | 350 kg |
| Depth min.: | 0,35m |
| Capacity: | 5 tot 6 personen |
| Power: | 9,9 pk |
| Top speed: | 20 km/uur (max) |
| License needed?: | No |
| Table: | Yes, but not all of the sloops (Ask for the possibilities during the reservation) |

Why is a navigation licence not necessary for sailing with Happy Boats' sloops?
The law stipulates when a navigation licence for small or large boats is required from Article 13 of the inland navigation decree. Article 16 stipulates when a navigation licence for small boats is required as a minimum. The most important sections of that law are described below.
A navigation licence for small boats is required to operate:
a. Leisure craft of at least 15 metres but less than 25 metres in length;
b. Vessels of less than 15 metres in length that can reach speeds in excess of 20 kilometres per hour on the water by means of mechanical propulsion.
Happy Boats' vessels are less than 15 metres in length and travel at speeds of under 20 kilometres per hour. A navigation licence for a small boat is therefore not required to operate Happy Boats' sloops and boats.
What is the maximum horsepower for an unlicensed boat?
In the past, the law stipulated that a navigation licence was mandatory if the boat or sloop had an engine with a capacity in excess of 9.9 HP. For a number of years now, a boat's engine capacity, or HP or kW, has no longer played a role in assessing whether or not a navigation licence is required.