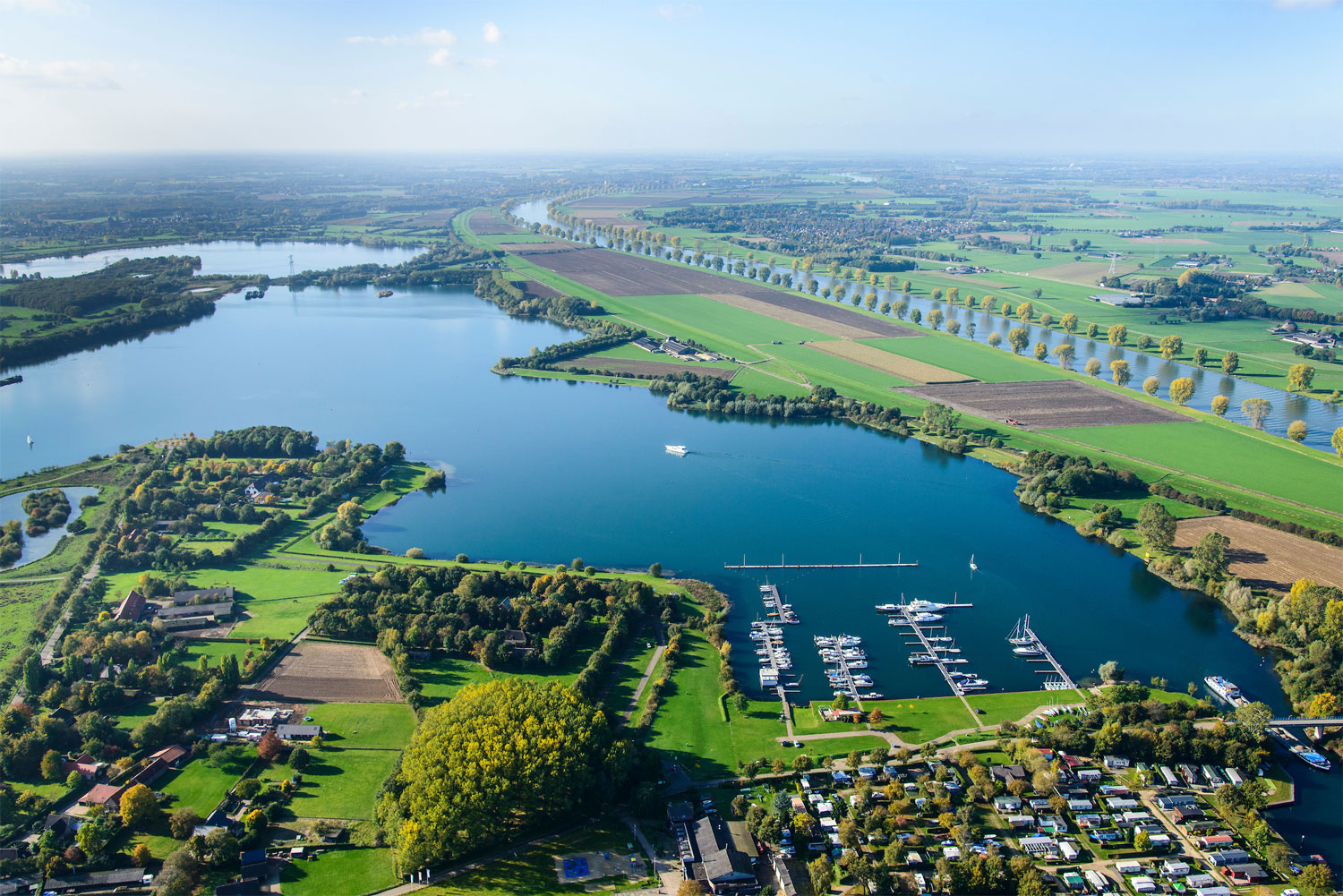 De Kraaijenbergse Plassen form an extensive lake area of ​​over 475 hectares of water and 200 hectares of nature in the Land van Cuijk, located in the northeast of the province of North Brabant. It consists of the municipalities of Grave, Cuijk, Mill and Sint Hubert, Boxmeer and Sint Anthonis. De Kraaijenbergse Plassen area is divided over the municipalities of Cuijk and Grave and is one of the largest wetlands in North Brabant.
De Kraaijenbergse Plassen is a unique nature and recreation area. Here you will find a water sports area of ​​approximately 475 hectares, which is a popular destination among tourists and day trippers for good reason. The pools were created by sand and gravel extraction. There is a beautiful nature reserve around the lakes, ideally suited for cyclists and hikers.
There is a large beach where you can relax. Sunbathe, kick a ball, have a picnic and enjoy the view. In addition to swimming, the Plassen also offers plenty of opportunities for sailing, surfing, rowing or making fun trips with a canoe along the nature around the Kraaijenbergse Plassen.
De Kraaijenbergse Plassen are free for everyone all year round.
More info? Check the official website: www.kraaijenbergseplassen.nl
Rules for sailing in De Kraaijenbergse Plassen
It goes without saying that in a nature reserve you are not allowed to leave waste behind, play loud music or light an open fire. Speeding (+6 km / h) is also not allowed, certainly not in the creeks. Unfortunately, the supervisors of De Kraaijenbergse Plassen often have their hands full to talk to offenders about their behavior. Before your visit to De Kraaijenbergse Plassen, read the park rules below: it is a small effort to adhere to and you do not risk a (hefty) fine!
Various rules have been drawn up on and around the water to create a safe environment.
For beach recreation, the rules are indicated separately for each recreational lake. On this page some global rules for on the water are highlighted.
For the complete regulation, see the website of the municipality of Cuijk.
Speed
On open water, a maximum speed of 9 km per hour applies on every lake. The maximum speed in the (marinas) harbors is 6 km per hour.
Accessibility
Not every lake in the Kraaijenbergse Plassen is accessible to water sports enthusiasts. The Verordering Kraaijenbergse Plassen and Heeswijkse plas 2005 states that there is a ban on water recreation within certain areas. The enclosed map shows the areas where the ban applies. Below is a part of the Verordering Kraaijenbergse Plassen and Heeswijkse plas 2005, which clarifies what is prohibited there.
"Article 12. Use of water and bank strips
1. It is prohibited within the area:
A. to operate a watercraft, jet ski or hovercraft or other electric motorized objects;
B. to dry sails of a vessel as well as laundry in or on trees, shrubs and plants;
C. to sail with a vessel in places that have been designated as determined by the Mayor and Aldermen;
D. to behave with a vehicle or vessel that continues to cause damage to flora or fauna or that continues to cause nuisance to the environment;
E. to swim or surf near underpasses of bridges as well as at places designated by the Mayor and Aldermen.
2. The Mayor and Aldermen can levy the prohibition stipulated in the first paragraph under C.